History of Building Stones in Iran
Extracting and using building stones in Iran, has a long history. Using these stones as building stones or dimension stones was ordinary in the first millennium of formation of civilization in Iran. The remaining vestiges of using them in Persepolis, Pasargadae, Takht-e Soleymān and many other Islamic and Sasanian buildings is distributed all over the country.
Many decorative objects made out of Marble and Onyx used as dishes and jewelry are now exhibited in museums of Iran and other countries. Discoveries also show that, these rocks were used as interior decoration in buildings. Discovery, extraction, transportation, cutting, polishing and using dimension stones which were performed in traditional ways, has been transformed profoundly in recent decades. The most important part of this transformation is using modern methods in production and use of these resources. Using Non-explosive extraction methods and deploying hard-cutting machines are the most important changes in Iran's rock industry, which have taken place in the recent decade and have expanded production and consumption of dimension stones.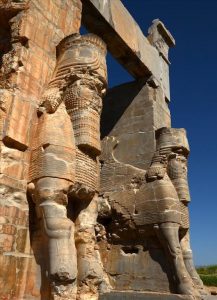 History of Using Dimension Stones
Application of rocks in buildings dates from 12 thousand years ago, and discovering ancient structures like The Egyptian pyramids and structures in Iran and Rome has stunned many people, considering the technology at that time.
Since Paleolithic and Neolithic eras when human had not yet discovered Iron, they used rock to meet their needs. Knowing the properties of Silicate stones they used them to make tools. As human civilization improved, application of stones have also transformed, the best example is buildings with stone facings. These changes are very noticeable in Iran, Greece, Egypt and Italy. Application of stones started with using large blocks, but as the technology went on, weight of stones decreased and they paid more attention to color, polishability, texture and strength of the stones. Nowadays stone plates that are beautiful, colorful, polished and low in thickness are used more frequently.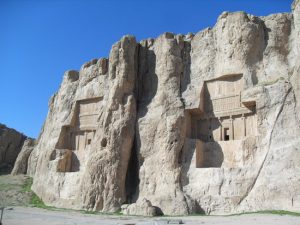 Evolution of Rock Processing Technology in Iran
In spite of Iran's ancient civilization and stone structures, Iran's stone industry is not that old. The first sawing machine was made, when building "Marble Palace" started in 1928. It used some hanging weights to cut things. The next machine was made in Mashhad by Goldschmidt in 1933 and another machine similar to this was also made by a company.
The first stone cutting factory was founded by "Astan Quds Razavi" in 1938, in Mashhad. This factory was built by German experts and was launched in 1939. It was built to supply needed stones for the "Shrine of Imam Reza", but after that, the produced stones were used in Iran Central Bank in Tehran, Bank Sepah Central Branch in Tehran, Ministry of Industry, Mine and Trade building, Marble Palace, and so forth. This factory had two sawing machines one cutter and one bridge saw, and two polishing machines made by Germany. In 1949, one Iranian bridge saw and in 1953 one Iranian polishing machine was added to the factory.
The cutter had 40 metal blades which were adjustable and placed 3-5 Cm from each other. The blades were able to move forward, backward, upward and downward. Belts and wheels conveyed the power and one electromotor supplied the needed power. A shower was placed over the blades which poured water into the blades and stone.
In 1320, Goldschmidt and his Iranian coworker invented a new sawing machine in Javadieh, Tehran. In the meantime Nazi Abad factory increased its sawing machines to 11, and supplied stones to Imam Ali and Imam Hussain shrines in Najaf and Karbala and "Arg mosque" in Tehran. In 1948 another factory was launched in the vicinity of 17 Shahrivar roundabout in Tehran.
Regardless of production problems, there were several problems in service section, and for example discharging stones from trucks, which was done by using roller and crowbar until 1961, when one of the factories imported an overhead crane. In 1961 the first sawing machine with 60 Quartz blades were launched which used Quartz powder. In 1963, a new design was employed, they used a cast Iron base for the blades and switched from weight system to helical axle. This system was modified later and is still being used. Stone production continued in the same way until 1966, then the first sawing machine with adamantine blades was imported to the country, and made it easy to mass-produce stone. It is worth mentioning that, this method had been common in foreign countries since 15 years earlier. Until end of year 1964, there were totally 10 stone cutting factories in Iran, one of them was located in Mashhad and Isfahan and the others in Tehran. Number of stone cutting factories in Iran has profoundly increased in recent years.