What is Granite?
April 15, 2019
What are the Advantages of Granite as a building material?
Granite is resistant to stains as long as it is sealed.
Its timeless elegance, outstanding hardness and resistance to abrasion make this the perfect material for outdoor and indoor use.
Granite is available in a wide range of colours. Some of the patterns are very attractive and have natural beauty and characteristics.
Hypoallergenic, allergen and bacteria resistant and highly resistant to water or moisture making it a hygienic choice for flooring and kitchen countertop.
The colour of granite does not fade. The colour you see of granite on the first day it is installed will remain same even after 20 years down the road.
It is very easy to maintain because it has highly shiny surface. Granite can remain shiny and last a lifetime with regular sweeping and mopping.
Granite window sill does not require regular maintenance due to its durability. They fit perfectly into any interior harmonizing with different materials such as wood, metal and other materials.
It can resist very high temperatures. Due to its fire and heat resistant properties, granite is used as kitchen countertops, since they can be subjected to direct heat from kitchen utensils without altering their surface.
If you are looking for a floor that you don't want to replace, granite is an exceptional option as its hard surface can easily last life time.
They can resist water seepage as they are not pours material.
Its hard surface can withstand high traffic area.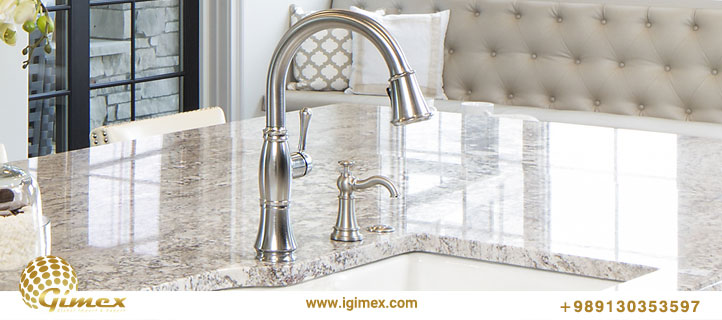 What are the Disadvantages of Granite?
Granite is a naturally occurring stone. Therefore one cannot guarantee good quality. It is just a matter of chance. Low-quality tiles may chip.
Granite flooring can be quite cold under feet in the winter, though not as cold as Marble.
Grout lines can be hard to clean. For it to last and retain its shine, granite needs regular cleaning.
Granite is very expensive because it has to be obtained from quarries and polished by experts. When you are away from quarry, the transportation cost of granite will increase.
For granite installation, required skilled worker and is very complicated and time- consuming. It is advisable not to attempt granite installation by yourself since granite is very heavy and requires extreme precision and know-how to install.
Soft or delicate brittle items dropped on the surface probably will break because of its hardness.
Transportation cost of granite increases due to the heavy weight of granite.
Highly polished (glossy) granite tiles can be slippery when wet and dangerous for children as well as an elder.
Repair of badly scratched granite may turn out to be an expensive, with a possibility of alteration in the granite colour as well. Also, cracked or broken granite requires a skilled worker to repair it.
Though available in many colours and textures, the variety available is not that wide and rich when compared with vitrified tiles where you have a hundred options of colour, pattern and design.
It is very heavy when compared to other flooring materials. Hence it will increase a dead load of the structure.
Its edges are sharp and blunt which may cause injuries. Hence you need to do chamfering, rounding, etc. which increases the cost of granite.
When used with grooves on staircase trades, the grooves will collect dust which is difficult to clean.
Due to heavy weight, special precautions like using bolting, adhesives, etc. need to be taken when used as vertical cladding.
It will not give soft feeling underfoot.
It should be cleaned on a regular basis.